Explore the R/V Revelle!
Click on one of the deck levels listed to the right to explore it. Mouse over points of interest and click below to see photos and descriptions.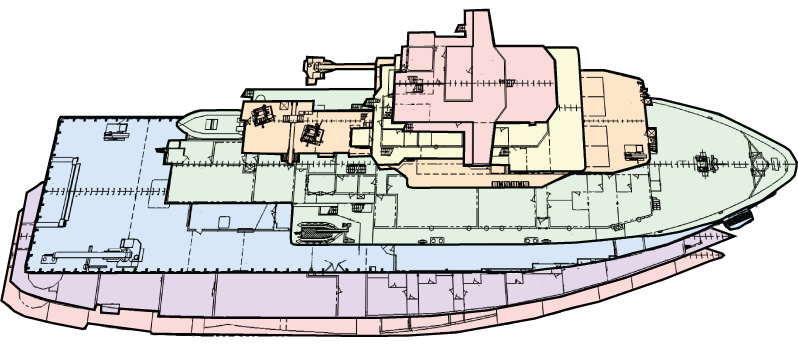 The Scripps Institution of Oceanography research ship:
R/V Revelle
R/V Roger Revelle (AGOR 24) is a 277-foot (83 meter) general purpose oceanographic research ship operated by the UCSD Scripps Institution of Oceanography. The ship is classified as a "Global" research vessel - the largest US research ship class - and has three sister ships: R/V Thomas G. Thompson (University of Washington), R/V Atlantis (the WHOI deep submergence support ship that carries the submersible Alvin), and R/V Ronald H. Brown (NOAA).
The Revelle was built during 1993-1995 by the U.S. Navy for operation by UCSD/SIO. The ship is named for Professor Roger R. D. Revelle (1909-1991), a renown scientist and also a director of SIO who strongly influenced study and public knowledge of the relationship of CO2 emissions to climate.
The Revelle is powered primarily by two 3000 hp Z-drive propulsion units; a 1180 hp azimuthing jet bow thruster is used to provide greater maneuverability on station. The Revelle has a cruising speed of 11-12 knots and carries 21-22 crewmembers and up to 37 scientists. The ship's range with its 227,500 gallon fuel tankage is approximately 15,000 miles (25,000 km), and the ship has to date done single scientific legs up to 55 days duration. The ship has 4000 sq. ft. of laboratories and another 4000 sq. ft. of main deck working space.
R/V Roger Revelle was used for the US Global Ocean Carbon and Repeat Hydrography program "I8S" cruise due to its long range, long endurance, large laboratories, ability to carry 4+ science vans, and excellent arrangements for work with large CTD/rosette packages.
See http://shipsked.ucsd.edu/Ships/Roger_Revelle for more information about the ship.
Contributors:
Dr. James H. Swift
Andrew Barna
Carolina Berys
Roxanne Lee
Matthew Shen
You are viewing:
R/V Revelle